Jackson's Features & Editorial 30th Oct 2019: Artist on a mission
01/11/2019
Using art to communicate the drama and awe of a World First Expedition
The Five Deeps Expedition has accomplished its historic mission - this post catches up with the expedition artist Alexandra Gould to reveal how she will be using art to communicate the drama, scale, practicalities and wonder of this world-first expedition.
Mounted Lino prints of The Explorer & The Limiting Factor
Alexandra Gould has travelled to the South Pacific and up to 80 degrees North into the Arctic Circle for the dives of Victor Vescovo's momentous and daring journey. With the five deeps crew, Victor's expedition has traversed 47,000 nautical miles in under a year, accumulating 106 scientific lander deployments and 39 descents of the Deep Sea Submersible the Limiting Factor. The combined skills and endurance of Triton submersibles, EYOS Expeditions, the formidable crew of Captain Buckle and the world-renowned science team of Dr. Alan Jamieson and Geologist Heather Stewart have achieved numerous world records, sending a two person submersible to the deepest points of each of our five oceans.
Prussian Blue lino print of Captain Stuart Buckle & the Captain on the Bridge
The unusual appointment of an expedition artist has given Alex the unique opportunity to observe all aspects of the expedition, creating inspiration for multiple artworks. The art which ranges from sketches and prints to paintings and photography strives to capture the people who ventured into the cold extreme depths as well as the deep marine ecology, revolutionary technology and the human experience of such a unique and dynamic challenge.
Cassie Bongiovanni – The Mapper and the sonar deep sea imagery
Being appointed the artist to a mission into the deep sea, at a time of intense focus on our planet, was loaded with ideas and responsibilities. I've approached the privilege with a keen interest in marine ecology and predominantly as a portrait artist with expectations of drawing sea life and capturing the charisma of explorers and leaders of audacious feats. I hadn't anticipated the beautiful forms to be found on the 35 year-old Deep Submersible Support Vessel the Pressure Drop or the technically alluring submersible the Limiting Factor.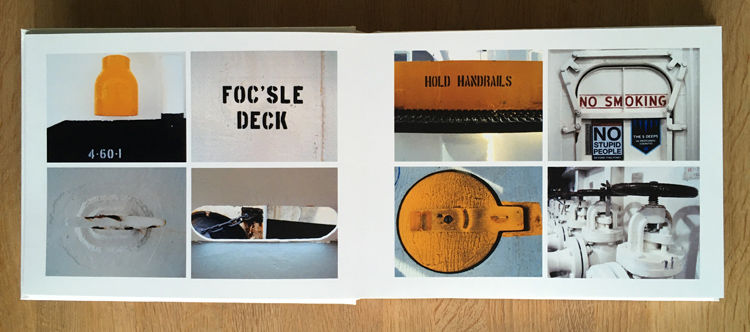 Pages from the Expedition Photo Sketchbook Sept 2019
Unlike my earlier trip I hadn't packed paints or pencils but even if I had every colour at my disposal I couldn't have used them fast enough to record the changing colours and shapes of the ocean's surface. I didn't imagine I'd see polar bears and until I witnessed it I had no understanding of the turquoise deep within the glacial ice.
The most relaxed polar bear in Svalbard
The responsibilities I felt, concerned the importance of successfully using art to share these oceanic discoveries and to help public engagement with our planet – how else could I justify the global flights or my position as one of forty-five crew members travelling the seas.
00.30am in the Arctic Circle, home of the midnight sun
I packed a Canon 7D DSLR camera for the arctic trip to Svalbard after learning from my South Pacific trip that photography and being 'present' was my best method to collect the visuals and experiences I'd need. In an environment where the atmosphere and light quality changes every hour and each day is radically different from the last, it is easy for an artist to abandon constraints such as 'portrait artist' or 'painter'. With an open mind I tried to see everything anew and rather than prepare for painting an idea I'd imaged at home, I was actively seeking out landscapes and graphic anomalies that opened up my visual language, sparking inspiration for a wide range of applications and mediums.
Inside the unique two person deep diving sub The Limiting Factor
The process of creating art was turned inside out. I put aside ideas about what art I would like to make and immersed myself in my extraordinary situation, knowing that I had a finite amount of time to embrace everything as fully as possible. Once I returned home it would be a world away and totally unrecoverable. As a result I have over 3000 images, each a trigger for a set of experiences and feelings. Approaching everything with fresh eyes I believe I gave myself the best opportunity to see beauty in the mundane and awe in the unfathomable.
Back in the studio my time is divided into admin, print, social and painting. The aim is not to lose sight of how ingenious, audacious and ambitious the expedition was but to break it down into manageable parts.
Photography is at the core of my visual references and staying connected to the team as they embark on new challenges helps me focus on the drama that this historic expedition evokes. While it is essential I create art I also need to communicate with broader audiences. The admin keeps my Jackson's website up to date with current text, images of new work and links to new platforms such as Saatchi Art.
I set up a Saatchi account specifically for the Five Deeps Expedition offering for sale the finished artworks as they come available, predominantly prints. However to set up this account I have had to dedicate time to framing and photography of the framed works plus a commitment to packaging supplies. The opportunity to reach a wider audience is very appealing but it's required all manner of research and even the discovery of Glassine paper sold by Jackson's (one of the mandatory packaging requirements).
I look forward to the time allocated for art but it has been a slow process since returning home. As I catalogue each of the 3000 photos I have also been creating photo sketchbooks, a unique tool for collating ideas and imagery so I can reference them.
The professionally printed books are art in their own right (a slideshow of the first photo sketchbook can be seen on my website: https://alexandragould.co.uk/sketchbook.html) and feature photos with sketches of the crew or landscapes or textures. The sketches aren't intended as finished works as they are the precursor to the lino print but the photo sketchbook has allowed me to present and show them as part of my process.
The geologist Heather Stewart in the sketchbook
They are created to capture the energy and enthusiasm of the crew but I am also interested in how an expedition artist can engage the public with the epic nature of the expedition.
The EYOS Expedition Leader Rob McCallum: the lino printing process
The printing process is a central tool to disseminate information in just one image. Historically that was an image on a poster or in a newspaper. The Cranfield Caligo Prussian Blue relief ink has been wonderful to print with and I am so glad I invested in the Pfeil lino cutting tools.
Lino Block of the Chief Scientist Dr. Alan Jamieson
I will expand the colours of the prints and the size since I currently work on A5 sheets cut from the Fabriano Accademia 120gsm paper roll, however these are part of a body of work that will develop into larger artworks. I'm really excited to see it though but currently have to commit the majority of my time in November and December to painting.
Lino prints drying on the new drying rack
Within this very structured approach to developing ideas and creating outlets for my finished work I have been using Instagram to keep in contact with the crew, carry out research into cultural issues that have a bearing on my work and post work in progress. It's been good to share the images of the photo sketchbook via posts and this has allowed me to work up very loose sketch ideas in a range of mediums.
Detail from an ink drawing of Chief Engineer Peter Coope, Sketch of The Ice Pilot Ben Lyons of EYOS Expeditions
Those I like I can post online and because it is an ambiguous endpoint – unlike a finished work ready to sell I have been more playful.
In this sketch I combined willow charcoal sticks with Derwent drawing pencils, plus regular Castell 9000 pencils with the Polychromos limited edition pencils I purchased for the South Pacific. A pot of Talens Ecoline liquid watercolour in Prussian Blue was used with a sharpie and my old Magic Marker twin-points came out of their case - the first time in an age.
The time for printing and painting is constantly squeezed but my ideas continue to develop. A quick painting sketch on canvas has been sufficient for now and although I usually work on just one painting at a time I currently have three commissions to develop and three sketched paintings ready to create. There are many more ideas jotted down on post it notes but when I am frustrated by the lack of time to paint I remind myself I have only been back for eight weeks.
Early stages of portrait of Second Engineer Officer Charlie Ferguson
Painting in the studio, portrait of crew: Deckhand
I've committed to using Acrylics for the majority of the paintings and I'll be using the Golden soft gel medium to keep the paint workable and blendable. I work on a range of sizes from the 50 x 70cm linen canvas for commissions to small Belle Arte 18 x 24cm for a smaller works. To create consistency across the expedition paintings I have chosen a 40 x 50cm Claessen's Linen canvas with a great textured tooth that reminds me of historical paintings.
That is something I am striving to create, historical paintings of our time, capturing this moment when the first people explored the deepest points of our ocean's informing our understanding of the sea floor and opening the gateway to further investigation. The achievement of all involved in the Five Deeps Expedition can't be overstated as they share their global endeavour and all it's data internationally helping us forge a new relationship with our oceans.
In the near future I will be working with Deep Sea research to convey the discoveries of this expedition. Meanwhile I am increasingly drawn to the graphic nature of art to capture the drama and sense of the moment. With plans to also develop new skills in photography the work is certainly becoming more and more ambitious.
Lino prints of the DSSV Pressure Drop & DSV Limiting Factor
To follow my progress on
instagram
See works for sale on
Saatchi Art
Or visit my
website
or the site of the
Five Deeps Expedition